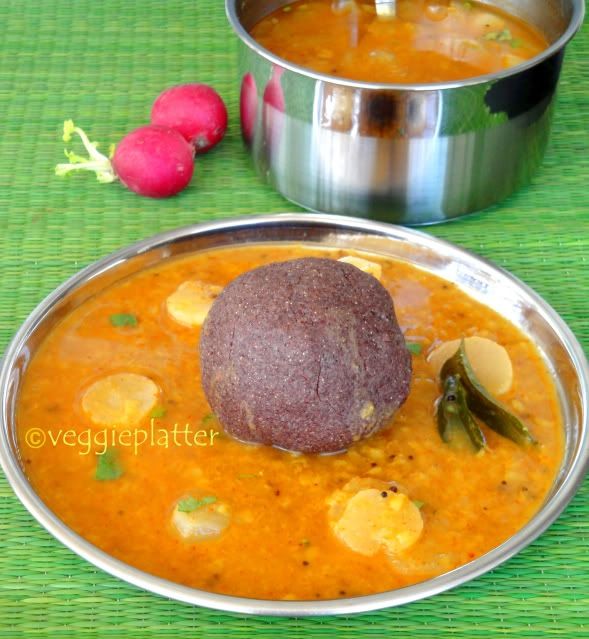 A ragi muddhe served with some spicy sambhar is totally a satisfying and fulfilling meal. Muddhe pronounced as mu - they with a stress on they. Muddhey refers to the circular shaped big morsel of cooked ragi flour.
The state of Karnataka accounts for almost half of the total production of ragi (finger millet) in India and no wonder that it is one of their chief crops. However ragi is popular mostly in the Southern regions of that state and here the grain is eaten in one form or another in most of the households. Ragi has been prized for its health benefits for centuries. It is rich in iron and calcium, diabetic friendly and is said to cool one's body. The facts that it is available abundantly at a cheaper price and is comfortably fulfilling make it more popular among the economically weaker section.
Ragi rotti and ragi muddhe have to be the most quintessentially popular ones among the ragi dishes prepared. I have to however stress that all Kannadigas don't eat muddhe and rotti scores more points over it since it is eaten widely through out the state. Ragi muddhe rules over rice especially in and around regions of Bangalore. A big muddhe + saaru lunch and dinner is a pretty common sight in most of the households, irrespective of one's social / economic status. This is not a restaurant item, though. I remember seeing some military hotels displaying the 'muddhe ready' boards outside. I don't know whether the new eateries presenting 'themed' food now serve muddhe in the name of traditional food. Sadly, I am no longer familiar with the Bangalore scenario except eating at the Indiranagar Shantisagar once or twice in the last decade.
Liking 'ragi' is an acquired taste and liking a 'muddhe' is more so. Many may not find the earthy flavor of ragi very inviting unless they are used to it or want to reap the benefits of this healthy grain. If you are a new user, I would recommend rottis / huri hittu to try.
Probably ragi muddhe is the last thing to attempt because of its flavor and texture. Also preparing it in the traditional way is said to be trickier and needs expertise.
I must admit that I was not a fan of muddhe until a couple of years ago even though I grew up eating all the other delicious ragi preparations. When M mentioned that his mother used to prepare ragi sankati (ragi - rice preparation) and all his siblings used to enjoy it, I hopped onto the blogosphere looking for an easier version and landed at Madhu's place. She happens to be one of my early blogger buddies and blogs no longer after her move to India.
Coming back to the recipe, this is a very easy version and is hard to mess up. All one need to do is just follow the measurements and instructions precisely. I have been making this for years now and the recipe is a keeper.
Ingredients:
1 cup - Ragi flour
2 cups - Water
Salt to taste (I usually don't add it.)
(Basically ragi flour : water ratio needs to be 1 : 2)
Method:
*

Bring a cup of water to boil in a pan.
*

Meanwhile, combine a cup of ragi flour and a cup of water to form a smooth paste. Keep it aside.
*

While water is boiling, slowly add the ragi paste and salt to it. Keep stirring with a wooden spoon until it comes together with out any lumps. When it appears cooked, remove from the fire.
When the cooked dough is still warm, wet your hands and shape it into balls of desired size. (I skip this step since I make small quantity and eat it once done. Mine is done in around 8 - 10 minutes.)
One would not sit and chew ragi muddhe morsels like one usually does with rice. They usually dip a small portion of the muddhe in a generous amount of a spicy saaru / gravy (bassaru / massappu / a spicy green leafy vegetable stew) and just swallow/gulp it since it sticks to the roof of the mouth if eaten leisurely.
M loves with eggplant sambhar but recently I have started to serve ragi muddhe with all kinds of sambhars and so it was radish sambhar this time.
Now here is the recipe for radish sambhar.
Ingredients: (For 6 servings:)
2/3 cup toor dal / pigeon peas
1 cup radish pieces (Radish peeled and cut into thin discs. Regular long white ones / daikon can be substituted. )
1/8 tsp turmeric powder
1 Tbsp sambhar powder
Salt to taste
1.5 tsp chili powder
4 Tbsp or as needed - tamarind juice (a lime sized tamarind soaked in water and juice squeezed.)
For tadka: 2 tsp oil, 1 tsp mustard seeds, 1 tsp cumin seeds, a pinch of asafoetida powder and few curry leaves
Making sambhar:
*

Wash the toordal in two exchanges of water.
Add 1.5 cups of water, radish discs and turmeric powder to the dal container and place it in a pressure cooker and cook till the dal is almost mushy. Alternatively, it can be cooked on stovetop in a kadai / deep based pan adding water as needed and stirring in between.
*

Take a kadai / pan and add the cooked dal and vegetable. Mash it a little bit with the back of a ladle. Then add sambhar powder, chili powder, salt and tamarind juice. Add extra water to bring to sambhar consistency. Mix well and turn on the heat. Taste and adjust the seasonings if needed. Bring it to a rolling boil. Lower the heat and allow the sambhar to simmer for a couple of minutes more.
*

Meanwhile, heat oil in a small pan and add mustard seeds, cumin seeds and curry leaves. When the mustard seeds start to sizzle, add the asafoetida powder and turn off the stove. Add this tadka to the cooked sambhar and mix well.
Note:
1.

There is another version, where rice is added to muddhe while cooking.
2.

Traditionally, a wooden gadget called muddhe kolu is used to stir the muddhe. I find a wooden spatula does the job and using a nonstick pan makes it further easier.
This is my 'Ragi' themed post on the fourth day of this

BM#6

. C

heck what the

other marathoners

are cooking.
Comments